Side Entry Mixer Manufacturer
side entry liquid mixing agitator, Paddle Agitators, Paddle Agitator, Turbine Tyupe Agitator, Mud agitator, Ribbon Agitator, Desulfidation Agitators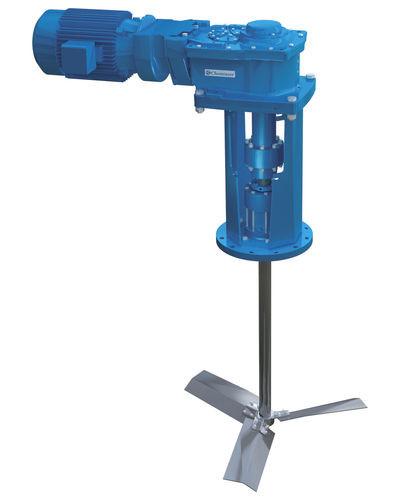 We are offering desulfidation agitators. The side entry agitators were primarily designed by working conditions of mixing container, process application, material parameters and installation condition, after then starting computer simulation experiment to analysis flowing situation to make the final complete agitation scheme with high speed design of compact structure and high transfer efficiency.
1. Cabinet type structure agitator, motor and coupling directly fixed on cabinet, this made installation and adjust more convenient.
2. The Side Entry Mixer shaft directly insert into the hollow axis of reducer by rack, without coupling --decrease the agitator length and increased system stability.
3. According to production requirement, the Side Entry Mixer agitators can install on the side or the bottom of the tank, and connect the tank with the concave-convex flange.
4. A gear box, in inner-shelf of the bottom of the reducer, can load axial force and radial force when agitator working, reduce the load of reducer and lengthen using life of the equipment.
5. Suit for speed from 100 to 1000rpm.
6. Side Entry Mixer Take few space, install easily and maintain conveniently.
7. The cost is much lower than top entry agitator.
8. According to different technological requirements, the Side Entry Mixer shaft and agitator adopt different materials , common materials are (usa standard) : 304, 304l, 310s, 316, 316l,cr.d and double-way stainless steel etc .
9. Both belt driving and gear driving are available .
10. Side Entry Mixer normally use mechanical seal as shaft seal, the sealing installed in inner of shelf, well fixed and durable.
Agitators come in many sizes and shapes. There are two types of agitators – mechanical and electronically controlled. In the first article, we will cover mechanical process agitators.
The basic types of mechanical agitators are:
Paddle Agitators
This is one of the most primary types of agitators with blades that reach up to the tank walls. Paddle agitators are used where an uniform laminar flow of liquids is desired.
Anchor Agitators
This simple agitator consists of a shaft and an anchor type propeller and can be mounted centrally or at an angle. It is mainly used in reactors.
Radial Propeller Agitators
Radial agitators consist of propellers that are similar to marine propellers. They consist of two to four blades that move in a screw like motion, propelling the material to be agitated parallel to the shaft.
Propeller Agitators
A propeller agitator is shaped with blades tapering towards the shaft to minimize centrifugal force and produce maximum axial flow. Propeller agitators are popular for simple mixing jobs.
Turbine Agitators
Yet another type of process agitator is the turbine agitator. Turbine agitators can create a turbulent movement of the fluids due to the combination of centrifugal and rotational motion.
Helical Agitators
These agitators have blades with a twisted mechanism, just like the threads of a screw. The curves result in a vigorous motion of the fluids to be agitated. Helical agitators are most useful for mixing viscous liquids.
Choosing an agitator depends upon the specific gravity and viscosity of the products to be mixed. Agitators need to be designed, engineered and manufactured to suit individual applications. Core knowledge of fluid mechanics is essential for choosing the right type of agitators.
SALIENT FEATURES :


Homogenization / Blending.
Liquid - Liquid Mixing
Gas - Liquid Mixing
Solid - Liquid Mixing / Reaction / Suspension
High Viscous Mixing Applications
Semi Automatic (Pneumatically Operated Ball Valave) Control
Contact parts are SS 304 / 316 /Mild Steel/ Rubber Lining.
Along with the ability for Design and Fabrication of Process Vessels, we offer complete mixing agitators, chemical agitators, mixers, blenders, reactors with shortest deliveries for trouble free lifelong operations